Spoiler warning!
This article contains plot details that might give away the book.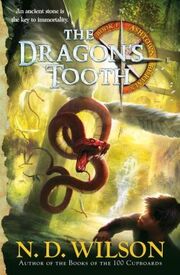 The Dragon's Tooth is a fantasy/adventure novel written by N.D. Wilson. It was published on August 23, 2011. It is the first book in a series. The plot centers around two siblings, Cyrus Smith and Antigone Smith and their discovery of a secret society called The Order of Brenden.
Cyrus, Antigone, and their older brother Daniel Smith are orphans who live in the run-down Archer Motel. They are visited by a mysterious man with bone tattoos named William Skelton, who gives Cyrus a magical set of keys and a very special necklace with a dragon's tooth on it.
The hotel is attacked by the antagonistic Maxi. Skelton is killed and Dan is abducted during the attack. Cyrus and Antigone talk to Skelton's lawyer the next morning. He tells them that the keys unlock any door, the necklace is really a snake, and whoever has the dragon's tooth cannot die. He also tells them that they inherited Skelton's estate in Ashtown.
Next thing they know, Cyrus and Antigone are kneeling in a crowded hall, swearing an oath to an order of explorers who have long served as caretakers of the world's secrets, keepers of powerful relics from lost civilizations, and jailers to unkillable criminals who have terrorized the world for millennia.
"Wilson (the 100 Cupboards books) launches the Ashtown Burials series with this wildly imaginative and action-packed thrill ride...Wilson balances these hyperbolic plot elements with measured prose and smart dialogue, while combining pulp sensibilities, cinematic pacing, and fully developed characters readers will gladly follow down the rabbit hole." - Publishers Weekly
"...Allusions to mythology and complex character development—not only of several young protagonists but also of Phoenix and the shifty cook, Sterling—make Wilson's first in a proposed series a gem. In an embattled world, where evil seems insurmountable, a glimmer of hope arises from a tooth." - Booklist
"A wild fantasy romp through a creatively imagined alternative world. For readers who've reread all of Harry Potter multiple times, this will be just what the doctor ordered." - Kirkus Reviews